PRESS RELEASE
Date: 15th July 2010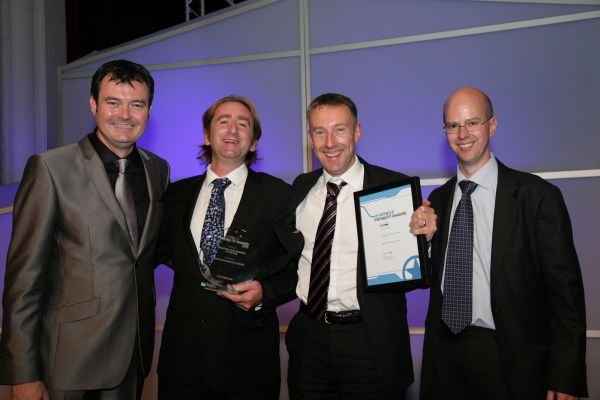 National Transport Awards 2010 – Winners Announced
The people demonstrating excellence, innovation and progress across the country were recognised at the National Transport Awards in Manchester last night.   This year sees the tenth anniversary of the awards, further raising their prestige.
Transport Secretary, Philip Hammond said:
"Transport is fundamental to our national well being. It is a great enabler of economic growth, the lifeblood of commerce, moving people to jobs and goods to the marketplace. But ultimately it's the people in transport who really make the difference, using their skills and commitment to deliver real and sustained improvements on the ground.
"The National Transport Awards are all about celebrating excellence and achievement in the transport world. And the nominations' short list for this year shows this is an industry that abounds with talent, innovation and enthusiasm. I would like to pay tribute to the winners for the work that they do and the difference they make. With their dedication harnessed to the full, we can make our vision of a world-class British transport system a reality."
Hosted by radio and television presenter Grant Stott, the awards drew over 500 transport professionals to the prestigious ceremony at The Palace Hotel.
The top award of the night, Transport Local Authority of the Year, was picked up by Brighton & Hove City Council, while the award for Most Improved Transport Local Authority went to London Borough of Sutton.
The success of the winners of Transport Local Authority of the Year, Brighton & Hove City Council, is attributed to policies which actively promote bus use combined with innovation in promoting travel choice.  Brighton & Hove has taken on powers for bus lane enforcement, allowing over 3000 buses to run to a more accurate timetable.  They had the first bus fleet in the country to be 100% equipped with satellite tracking.  A link to the city's traffic light software gives priority to late running buses at main junctions.
Stagecoach Manchester was named Chris Moyes Bus Operator of the Year.  They have achieved consistent passenger growth in both adult and concessionary markets with 23% total growth since 2004/05.  62% of the bus fleet complies with Euro 3 emission standards or higher and use a high-tech fuel additive to improve fuel consumption.
ScotRail took away the award for Chris Moyes Rail Operator of the Year.  In the last year passenger journeys on ScotRail rose by 3.2% from 81.3 million to 83.9 million.  The company achieved its best ever single period public performance measure of 94.8%.  Smartcard trials involving staff are currently under way.  Crime is down 5.7% and the National Passenger Survey put satisfaction with personal security on trains at 82%.
Most Improved Transport Local Authority of the year, London Borough of Sutton's strategies and policies have changed the way people in Sutton travel.  Strategies include Smarter Travel Sutton, a three-year marketing project aimed at reducing congestion through behavioural change.  This has achieved a 75% increase in cycling, 6% modal shift away from car use, a 5% reduction in the number if pupils travelling to school by car, a 16% increase in bus patronage and a 3% increase in walking mode share.
Cllr Jane Urquhart, Portfolio Holder for Transport at Nottingham City Council, was given the award for Outstanding Contribution to Local Transport.  Jane impressed the judges with her vision for transport in the city and her excellent communication skills which has ensured wide stakeholder support for Nottingham's radical transport agenda.  The City is one of the few in the UK that has been able to reduce traffic levels through a combination of good public transport provision, excellent policies to promote cycling and walking and leading smarter travel initiatives. The new tram in Nottingham has been a big success and the cities dogged pursuit of their work place parking levy is to be commended.
This year's winner of the Outstanding Contribution to National Transport award, Sir Moir Lockhead, is a commanding figure in the UK transport sector. He started work as a bus mechanic almost 50 years ago and worked his way up the ranks to eventually become managing director of Grampian Buses.  He led a management employee buyout and through a series of acquisitions turned his company, First Group, into the largest bus and train company in the UK.  Moir has devoted a great deal of his time, money and energy to charitable causes most notably Save the Children Fund. He was rewarded with a knighthood in 2008 and this year was elected president of the Chartered Institute of Logistics and Transport.
The National Transport Awards, in association with Transport Times Magazine are endorsed by Department for Transport, the Local Transport Planning Network, Passenger Focus and GMPTE.  The awards were judged by Transport Times Publisher, Professor David Begg, Nick Bisson, Director of Regional and Local Transport Policy at the Department for Transport, Dr Andy Southern, Director of Atkins Transport Planning and Management Business and Anthony Smith, Chief Executive of Passenger Focus.
The full list of award winners and those who were highly commended is as follows:
Road Safety, Traffic Management & Enforcement
Portsmouth City Council - Portsmouth city-wide 20mph speed limits in residential roads - Winner
Improvements to Bus Services - sponsored by Greener Journeys
City and County of Swansea / FirstGroup Plc – ftrmetro – Winners
Cycling Improvements - endorsed by Department for Transport
Devon County Council - Cycle Exeter - Winners
Brighton & Hove City Council - Cycling Improvements in Brighton & Hove – Highly Commended
Walking & Public Realm - endorsed by Department for Transport
City of Westminster, The Crown Estate, Transport for London, Atkins, WestOne - Oxford Circus gets the X Factor - Winners
Lancashire County Council - Civitas Adelphi Quarter Highway and Environment Improvement Scheme – Highly Commended
Glasgow City Council - Tourist Signs and Public Realm: a pedestrian orientated project – Highly commended
Dedication to Access for All - sponsored by FirstGroup plc
Shropshire Council - Shropshire Link - Winners
Devon County Council - Improving Access in Devon – Highly commended
Contribution to Sustainable Transport - sponsored by Heathrow Airport Limited
Worcestershire County Council - Worcester 'Choose how you move' - Winners
FirstGroup Plc - FirstGroup's DriveGreen Scheme – Highly commended
Travel Information & Marketing - supported by Highways Agency
Southern - Loco Toledo Campaign - Winners
East Midlands Airport - East Midlands Airport: Club Skylink- A CRM Strategy – Highly commended
Nexus - Buses are getting better – Highly commended
Most Innovative Transport Project - sponsored by Stagecoach Group
Carmarthenshire County Council – BWCABUS - Winners
Bournemouth Borough Council- Bournemouth Camera Car – Highly Commended
London Borough of Islington –  Incentivising Behaviour Change: Vouchers for Permits -  Highly commended
Technology
Transport for London - UTC to VISSIM - Faster than real time - Winners
Transport Team/Partnership of the Year - sponsored by GoSkills
Northern Rail, Network Rail, Cumbria County Council & Allerdale Borough Council - Response to the Cumbrian Floods – Winners
Joe Clarke Integrated Transport Authority of the Year - sponsored by AECOM
GMPTE/ GMITA - Winners
Nexus – Highly commended
Rail Station of the Year
South Yorkshire Passenger Transport Executive and Northern Rail - Winner
Nexus - Haymarket & Hub – Highly commended
Most Improved Transport Local Authority
London Borough of Sutton - Winners
Bournemouth Borough Council – Highly commended
Frontline Employee of the Year
Bob Paterson, Nexus – Winners
Luton Borough Council - Margaret Wiggett – Highly commended
Stagecoach North East - David Hands – Highly commended
Herefordshire Council & Amey Herefordshire - AJ Clarke – Highly commended
Southern - Barry Jones – Highly commended
South Yorkshire Passenger Transport Executive - Paul Broomhead – Highly commended
Stagecoach South West - Steve Coombes – Highly commended
GMPTE - Arthur Pinder – Highly commended
Outstanding Contribution to Local Transport
Cllr Jane Urquhart
Outstanding Contribution to National Transport
Sir Moir Lockhead
Chris Moyes Rail Operator of the Year
ScotRail - Winner
First TransPennine Express – Highly commended
Chris Moyes Bus Operator of the Year
Stagecoach Manchester – Winner
Transport Local Authority of the Year - endorsed by Department for Transport
Brighton & Hove City Council - Winner
For further information contact: Transport Times Events
Contact name: Grant Poulton
Tel: 0207 828 3804
Email: grant.poulton@transporttimes.co.uk
Photos of the event / winners are available via Simply Photography