Will Covid-19 be the defining moment in the fight against climate change?
This year we have had a glimpse of a world with clean air. The lockdown emptied the roads and cleared the skies. But as economies open up, global emissions have already bounced back to just 5% below pre-pandemic levels.
We need a green recovery. Calls are growing from businesses, policy makers and across society that we must build back better. Only 9% of people want life to go back to how it was before.
As President of the UN COP26 climate summit, and host of the G7 next year, the UK is uniquely positioned to lead international efforts to seize the opportunity for an investment led green recovery.
Here in the UK, and around the world, transport is on the front line.
Transport is responsible for a quarter of global CO2 emissions, and road transport is by far the biggest contributor. Most worryingly of all, transport emissions are on the increase with improvements in vehicle efficiency more than offset by traffic growth.
Rising demand for car and van travel is one of the central reasons why UK emissions remain stubbornly high. Road transport is also the biggest contributor to air pollution causing 40,000 early deaths every year in the UK.
There are three key principles that should inform the strategy for decarbonising our roads.
Firstly, we need to reduce the need to travel. Digitalisation has revolutionised how we participate in the economy, a trend which has accelerated since COVID-19. The Committee on Climate Change has recommended that the £27 billion roads budget could be better spent on broadband.
Secondly, mass transit will continue to play an important role. New developments in urban centres well connected by public transport can stimulate 50% more economic growth than developments located at the fringe. A 10% improvement in public transport connectivity is associated with a 3.6% reduction in social deprivation. Wholesale reform of appraisal will be needed as existing conditions favour car-based policies and investments.
Finally, we need a total reformulation of transport pricing. The failure of road taxation to cover externalities means that we over consume roads. The freeze in fuel duty since 2011 has led to 5% more traffic and an additional 5 million tonnes of CO2 emissions. At a time of record low oil prices, the Chancellor really should take the opportunity to increase fuel duty.
Through our presidency of COP 26 we should lead efforts to establish a strong, predictable and rising carbon price; and to encourage carbon pricing at the border.
Later this year Government will publish its Transport Decarbonisation Plan. Decisions about where we work, how we purchase our goods, which car we buy, how we travel, or whether we even choose to travel at all, are going to be critical in determining whether or not we bring emissions down onto a safe trajectory.
2020 must be the moment for a reset in road transport decarbonisation.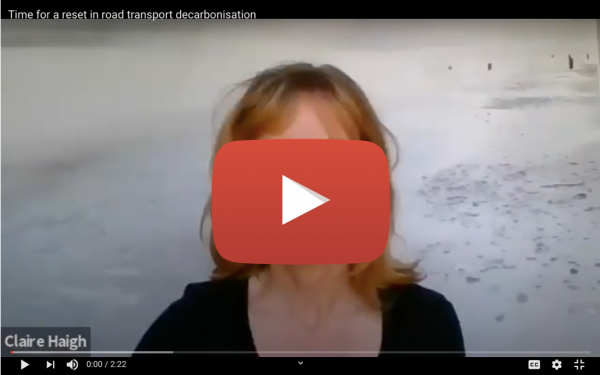 Claire Haigh is one of the speakers at the Low CVP Annual Conference on 15th July 2020