SCOTTISH TRANSPORT SUMMIT 2019 | 13TH JUNE | GLASGOW
Derek Provan, Chief Executive, AGS Airports
This year's Scottish Transport Summit will bring together key decision-makers, practitioners and thinkers to discuss and debate Scotland's transport needs and future strategy. Held by Transport Times in partnership with Transport Scotland, the Scottish Transport Summit is a must-attend event for anyone who wants to be up to speed with all the latest developments in the transport industry throughout Scotland.
Aberdeen & Glasgow Airports' Derek Provan will be sitting on our panel discussing the inter-urban and international transport networks and how they can maximise the value to Scotland.
To hear Derek speak alongside a host of speakers from Transport Scotland as well as key industry figures from across the Nation at the Scottish Transport Summit on 13th June - book your place here now.
---
It's widely accepted that a city or region with strong connectivity can expect to enjoy increased levels of trade and tourism.
Companies have always viewed the quality and reliability of transport as a significant consideration when it comes to investment decisions and at AGS Airports, we see it as our role to work with our city and national partners to secure the routes which will help facilitate economic prosperity and wider social inclusion.
Since 2013, Glasgow Airport has enjoyed a 31% increase in passenger numbers which has been largely driven by the low cost carriers (LCCs). The number of seats operated by LCCs has grown by 98% over the last 10 years in Glasgow during which time it has also consolidated its position as Scotland's leading long haul airport.
On 16 April, the airport created aviaton history when Emirates introduced Scotland's first-ever scheduled A380 service. Not only did this represent a major vote of confidence in the city, it further strengthened its connectivity with the United Arab Emirates, as well as with markets in Asia, Africa and Australasia, all of which are important for Scottish business and our burgeoning tourism sector.
Similarly, the connectivity provided by Aberdeen International Airport is playing an important role in the renaissance of the north-east. Having endured the downturn of the oil & gas industry, the region has now emerged with a clear economic diversification strategy and strong connectivity will be key to its success.
Our airports are more than vital pieces of Scotland's infrastructure, they are key drivers of our national economy. Earlier this year, Glasgow Airport published the findings of an economic impact study which revealed it generates in excess of £1.44 billion (GVA) annually and supports more than 30,000 jobs across Scotland. These are hugely significant figures and through continued investment and working with our city partners, we want to ensure our airports continue to thrive.
What we cannot afford to do, however, is take our connectivity for granted. The wider aviation industry is facing a challenging period. In the last year alone, we have witnessed the demise of flybmi, Alitalia, Air Berlin and Monarch as airlines struggle to contend with what could be viewed as a perfect storm of issues including rising fuel costs, a weakening pound, pilot shortages and Brexit uncertainty.
Add to that the continued burden of Air Passenger Duty (APD) and you can see why it is even more challenging for airports to secure the routes our regions and passengers demand. So how do we respond?
In Glasgow, we are working closely the local Chambers of Commerce and Glasgow City Council to develop a fresh, shared narrative for the city – a bragging book. Led by Professor Greg Clark, it will highlight our areas of strength, demonstrate the real progress we have made as a city and position Glasgow as an attractive proposition for investors and airlines.
The same team approach is also in play in Aberdeen where the airport, Aberdeen & Grampian Chamber of Commerce and VisitAberdeenshire have all come together to make compelling cases for airlines.
Alongside these efforts, we also need to address how people access our airports. Convenient and reliable access by a range of modes of transport is of fundamental importance to the operation and success of any airport. The new Aberdeen Western Peripheral Route (AWPR) will deliver huge benefit for the north-east, reducing journey times for commuters and widening the airport's catchment area.
Meanwhile, despite decades of debate, Glasgow remains the only airport of its size that can only be accessed by road. With a recent report commissioned by Transport Scotland having confirmed congestion on the M8 has reached record levels there is an acceptance by all involved that doing nothing is not an option.
Over the course of the past 10 years, the airport, has been working with partners to address this long standing issue resulting in plans for a tram-train, which is fully funded through the City Deal, being taken forward. It is not only people flying in and out of the airport that would use the rail link. We know there are 35,000 people employed in and around the airport trying to get to their work every day. The Advanced Manufacturing Innovation District Scotland (AMIDS) is expected to create a further 10,000 jobs, which will be fantastic for the region.
In April, the Glasgow Connectivity Commission put forward recommendations for a city-wide metro system starting at the airport. We agree with the Commission's calls for the airport link to be delivered by 2025, however, this will require firm commitments from the relevant organisations if it's to be realised.
Put simply, we need to fix the transport network to Glasgow Airport as our current options are not adequate. We cannot allow this to drift.
---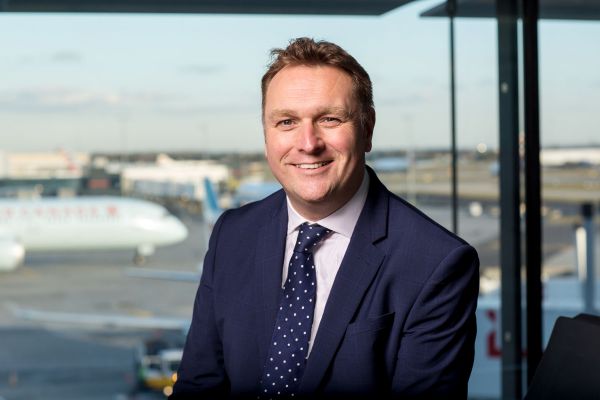 Derek Provan, Chief Executive, AGS Airports
About AGS Airports Limited
AGS Airports Limited was established in 2014 to invest in Aberdeen International, Glasgow and Southampton airports. It is a partnership between Ferrovial (via Faero UK Limited) and AGS Airports International Sarl (a Luxembourg company that is majority owned by Macquarie European Infrastructure Fund 4 and managed by Macquarie Infrastructure and Real Assets (Europe) Limited).
As the second largest airport group in the UK, AGS carried almost 15 million passengers in 2018. With 70 airlines serving more than 200 destinations, the Group serves three distinct catchment areas and includes Europe's busiest commercial heliport at Aberdeen.
Approximately 1,000 people are employed across the Group which supports a further 12,000 indirect employees. AGS invested over £30 million in major infrastructure projects across its airports in 2018 to further enhance the passenger experience and support the continued growth of the Group.
---