I have been reading Allen Andrews entertaining book "the Mad Motorists", which tells the tale of the Peking to Paris car race of 1907. In it he quotes one of the drivers, Auguste Pons, as saying "We came out here [to Peking] with the object of showing that the motor-car is the machine of the future, and nothing can stop its progress", and arguably the next hundred years proved him right.
But how do we feel about cars right now?
Last week I sent in the RAC Foundation's response to the Government's consultation on ending the sale of internal combustion engined cars and vans, which really is feeling like the end of an era, even if the ban is still a decade away at the more ambitious end of the accelerated timescale advocated by the Climate Change Committee.
Of course we're not contemplating a ban on the sale of cars per se: the Government's enthusiasm for electric cars appears undimmed (although there is a modest fashion for going car-free in some places, such as the series of car-free Sundays in Paris, or the plans floated for banning cars within the medieval walled city centre of York).
I also, last week, found myself discussing the idea that adverts for the biggest, thirstiest SUVs should be banned. I wasn't overly enthusiastic about the idea – I'm not sure where the folks who buy these vehicles get their information from, but if they've decided they need one I suspect it is more because they've seen them out on the road rather than being lured by an advertisement.
There is something of a head of steam brewing about the rise in SUV sales, "why on earth are people buying these bigger, heavier vehicles - don't they know they're harming the planet?" I hear people say. I am reminded of an old chum of mine who observed that he had given up on driving, back in the day, because he found that cars had increasingly become something you had to climb down into, which he found both uncomfortable and unseemly.
Not all SUVs are that huge, but they do offer some features many people clearly like – more space for the kids, better suspension to cope with our potholed roads, comfortable upright seating and a commanding view of the road (no, by the way, I don't own one myself). And we do have something of a history of 'banking' fuel economy improvements by trading into bigger-engined vehicles that are still more fuel efficient than they used to be, which is a problem.
And then, of course, there has been the lockdown for coronavirus with the emergency reallocations of road space in favour of walking and cycling and some fairly loud statements about not wanting to emerge from the pandemic and return to our old congested and polluted ways, including the points made by Lynn Sloman and others on a webinar I chaired recently marking the 70th anniversary of the Rees Jeffreys Road Fund (there's a recording on the Rees Jeffreys website).
On the other hand, I also hear a great deal about how young people aren't interested in driving any more. Driving licence holding amongst young people peaked around the turn of the millennium since when it had indeed been in steady decline, at least it was until a few years ago. But data we've analysed suggests that over the past three years the downward trend may have started to reverse. 46% of young men (aged 17-24 years old) had a full driving licence at the end of 2019 compared with 43% at the end of 2016. For young women the percentage had risen from 41% to 44% over the same period.
That was pre-lockdown. Figures released last month by RAC Insurance show that through June - ahead of the restart of driving lessons on 4 July – sales of its learner driver insurance policy were up about a quarter year-on-year.
It remains to be seen in what way the pandemic impacts on our travel choices long-term. But in the short term, with social distancing in place and public transport capacity massively reduced it's not hard to understand why young people might be coming back to the car not for any great love of motoring but for the simple utility of being able to access a wider range of job opportunities.
As for our interest in cars in general, Lewis Hamilton's victory at last weekend's crowd free-British Grand Prix would, in other times, have been one of our best-attended sports events. Over 350,000 people watched last year's race, the biggest crowd for any of the global Formula 1 series.
I am left feeling that as a society we have some very mixed feelings about the car, about cars in general, and about our own cars.
Based on the latest figures I could find (Eurostat) both the Germans and those heroes of the cycling revolution the Dutch have more cars per capita than Great Britain. But, and I speak in very broad generalisations here, they appear to have a greater tendency to choose what one of my colleagues termed 'the right tool for the job'. There's a big BMW in the garage for blasting down the autobahn and a bicycle propped next to it for popping to the local shops. It can't, as is sometimes claimed, be the weather that's making the difference – I have been rained on in all three countries.
The Le Matin article that set the Peking to Paris challenge said, somewhat ambitiously: "What needs to be proved today is that as long as a man has a car he can do anything and go anywhere", to which, perhaps, we might add "but just because you've bought an SUV doesn't mean you can't get on your bike or walk some of the time – you might even feel better for it".
(NB the Peking-Paris race was won by Prince Scipione Borghese on 10 August 1907 in an Itala, which is now housed in the Museo Nazionale dell Automobile in Turin)
---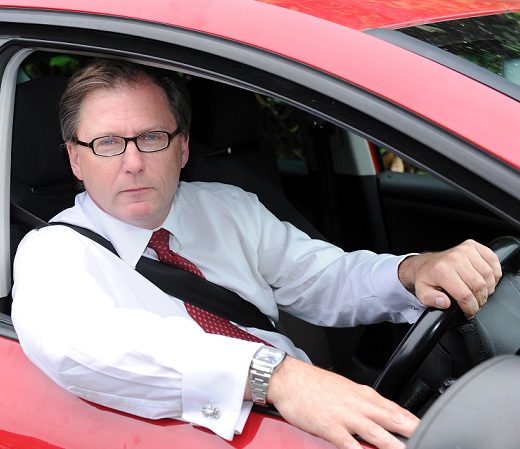 Steve Gooding, Director, RAC Foundation
---