I often start the day by scrolling through the latest posts on LinkedIn, because it's quiet and I tend to wake up at least an hour before anyone else in the house. Today I found myself reading a post by Colin Minto – I'm sure he won't mind me referencing him – which is something of a paean to the joy of commuting by train to a London office job.
Here's what he said about the positive side of being a commuter:
"Getting up with purpose, having the 84 minutes with a seat and wi-fi to clear down emails and prep for meetings and calls, arriving into the incredible vibe of early morning London, grabbing a walk to St Paul's or another amazing spot at lunch, being face to face with amazing colleagues, grabbing an opportune corridor convo, easily meeting amazing suppliers at their offices, popping out to meet a chum for coffee, clearing down emails and projects on the return leg, enjoying multiple communities and getting home pretty much up to date on email and planning so I could spend quality time with my kids."
The reason this appealed to me is that I have found myself saying something similar in conversations over the last few months. Like Colin, I was used to the relative luxury afforded by the extended Gatwick Express trains – a seat at a table, a power socket, free wi-fi, air conditioning and, for me, 45 minutes each way of relative peace and quiet to sort the ever rising tide of mail or to concentrate on a task, such as writing this blog.
I liked stopping on the way to my office for a really good coffee. I liked strolling through Green Park. I liked the abundance of cafes and eateries and opportunities to catch up with other people. Even the non-London based folk in my address book could be caught-up with as they passed through from time to time.
So, did I rush back to my office in the brief period when the government's stern advice to work from home was lifted?
No.
Why not? Because, many of my contacts and colleagues had either found working from home suited them, or they work for employers unwilling or unable to accommodate them within the guidelines for maintaining social distancing. And without my contacts and colleagues the serenity of the train journey and the lush leafiness of Green Park by themselves aren't enough to make up for the fact that I'd be in an office by myself, connecting with people through the screen of my laptop rather than face-to-face, and rueing the fact that my favourite coffee shop is closed (I hope only temporarily), and the café where I had sourced my lunchtime sandwiches had already closed due, as far as I could tell, to an avaricious pre-Covid rent review.
When it comes to the office, what I miss is the ease and familiarity of those face-to-face connections.
A chum whose employer enthusiastically embraced the 're-open-the-office' message reported that the rules on social distancing meant staff were expected to turn up on different days, stagger their arrival and departure times so as not to overload the elevators, and to sit mostly in splendidly isolated cubicles. Ease and familiarity? No chance. The return of the 'work-from-home' message was greeted with a collective sigh of relief.
I won't be alone in hoping that a vaccine comes along or herd immunity kicks in so that social distancing can be consigned to the past, along with the face masks that mean my glasses are generally fogged-up. But if that doesn't happen soon, and I can't quite persuade myself that it will, I do wonder whether we are about to see a real change in commuting and office working, particularly in London, because the thing many of us have been missing is, of course, not the office itself but our colleagues all being in at the same time.
I can't see any benefit in maintaining some sort of rolling office presence just for the sake of it. We'd be better off getting the team together, in full, from time to time, and spending the rest of our working hours wherever's most convenient for us (maintaining some office space for people whose home circumstances are anything but conducive to office work).
And that is starting to feel to me to be a more credible future than one that looks, more or less, like office work did back in February. It's the thinking that goes with 90 being the new 60, i.e. people who might only go into the workplace once or twice a fortnight would trade longer travel time for a home with more space and a garden, fuelling a surge in property purchases just beyond the traditional commuter belt. It was already the working pattern of at least one ostensibly London-based consultancy I can think of.
I wonder if I'd feel differently about it if I worked in Paris, Munich, Barcelona or Turin, since the reports I have seen suggested a much higher numbers of white-collar workers had been returning to their offices in France, Germany, Spain and Italy than had been the case in the UK as the original lockdown eased. I wonder whether this might have something to do with the commuting distances (and costs) that we have grown accustomed to in this country. Perhaps there's a stronger culture of 'presenteeism' on the continent.
I know, this is all just speculation. I just have a feeling that in two or three years' time I'm more likely to be buying that really good coffee from a barista local to my house, not my office, most days, and if that future is plausible then shouldn't we now be doing some pretty fundamental re-thinking of transport services that have long been focused around catering for the morning peak?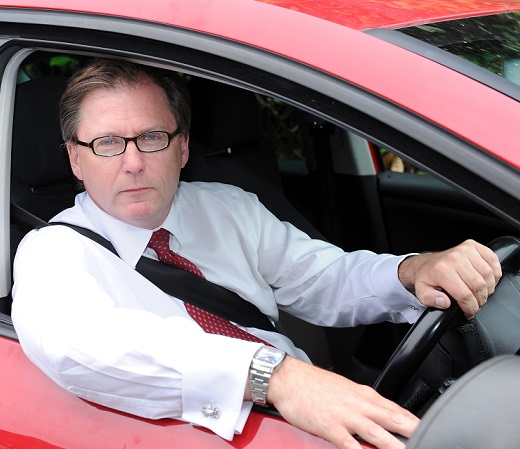 Steve Gooding is the director of RAC Foundation