UK BUS SUMMIT 2018 | 8TH FEBRUARY | LONDON
Anthony Smith, Chief Executive, Transport Focus: Successful bus services alchemy? - Bus Summit to stir the pot!
Next month's UK Bus Summit will give key industry professionals the time to examine why buses are an integral part of the solution to Clean Air Zones (CAZs) rather than the problem.  The Summit will also give speakers and delegates the opportunity to disseminate best practice and give all stakeholders the opportunity to exchange views as part of the consultation.
The event will also feature topics such as why buses are central to city economies as well as how 'disruptive technology' may affect the bus industry.
Anthony Smith will be chairing two of the sessions at the event next month. Below, in his blog he discusses the relationship between local authorities and bus companies in order to run successful bus partnerships.
To hear more about the above, book your place now to attend on the 8th February. 
---
As every bus passenger knows the key thing they want from bus services – as with all transport modes – is reliability. The bus to turn up on time and get you there roughly when they said it would. This is confirmed time and time again in our research and all our experiences.
For example:
https://www.transportfocus.org.uk/news-events-media/news/do-passengers-trust-the-bus/
You can overcomplicate some of these issues, but Alex Hornby, the fizzy CEO of Transdev plc, summed it up well recently: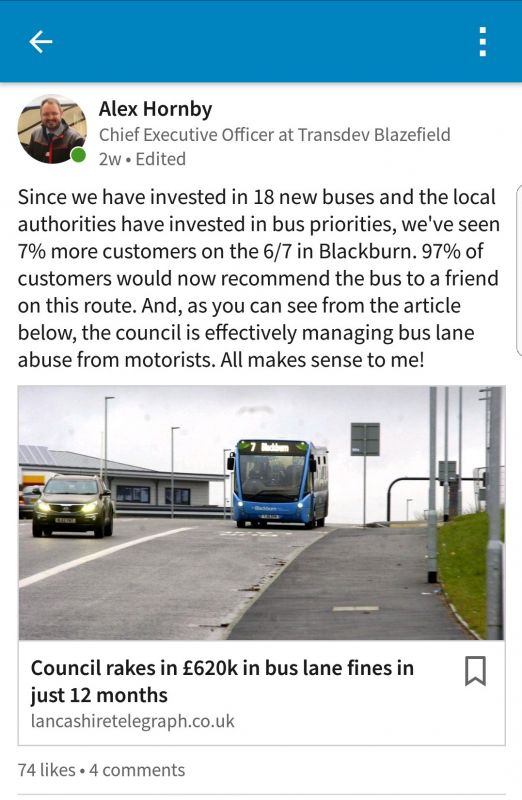 Sounds so simple! Local authority invests in bus priority and take political flak. Bus company invests in new services, and markets them. We need more of this type of pragmatic partnership, franchise or enhanced partnership – whatever works locally.
This debate is bound to figure at the forthcoming Bus Summit  which I will be chairing a session at. As debates about air quality hot up and as congestion drives passengers away the need for action is becoming more pressing by the day...