Panel Members
Michèle Dix CBE, Managing Director - Crossrail 2, Transport for London
Baroness Jo Valentine, Chief Executive, London First
Terry Morgan, Chairman, Crossrail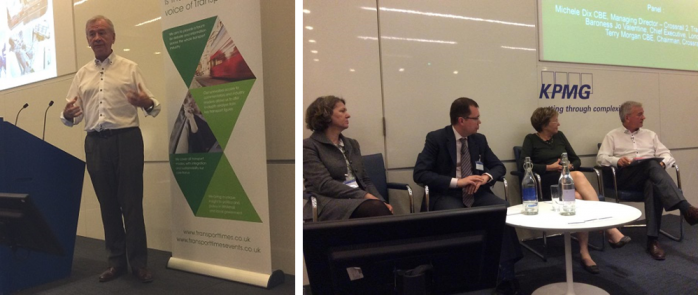 200,000 new homes, 200,000 new jobs
Michèle Dix, TfL managing director for Crossrail 2, said that Crossrail 2 was needed because London's population was growing and creating new transport challenges.
She added these pressures also impacted on the transport network around the city.
Population growth would fuel demand for housing and land for 500,000 additional homes would have to be identified to meet that demand, Ms Dix said.
She underlined the importance of improving existing transport assets, including the Tube and cycling infrastructure, but said "new links are also needed."
Only integrated plans which look at transport and land use planning as one could unlock growth, she said, pointing to new developments at Vauxhall Nine Elms and Barking Riverside.
Crossrail 2 was "an immediate priority"; she hailed it as a "truly transformational scheme". It would have 70km of tunnel, connecting the national rail networks in Hertfordshire and Surrey, and could potentially be operational by around 2030.
The project would improve capacity and accessibility across the whole South East region, Ms Dix said: "It will have an impact from the Solent to the Wash." It would open up areas to build housing, making it viable to build on site not currently connected to jobs.
Within the London Plan, Crossrail 2 could unlock 80,000 new homes, but with a Crossrail 2-led growth strategy this could rise to 200,000. It would also support up to 200,000 new jobs as well as 60,000 jobs in construction and the supply chain.
The NIC said the case for the project was "well-founded" but had called for it to be made more affordable, and linked to a strategy to deliver housing growth. A funding plan should ensure London paid for over half the cost of the project and private sector investment in stations and surrounding areas should be maximised.
The NIC has recommended that a Hybrid Bill for Crossrail 2 could be submitted in August 2019, Ms Dix said.
A succession of green lights are still needed
London First Chief Executive Baroness Jo Valentine set out the business perspective for Crossrail 2. She said the 17-year timeline for building Crossrail demonstrated the scale of challenges. Baroness Valentine cautioned against believing that Crossrail 2 had been given a final go-ahead by Chancellor George Osborne in the last Budget. It had been given a green light to proceed but needed "a succession of green lights".
The project was "less sexy" than its predecessor, but still enjoyed support from the business community, she told the Summit.
Baroness Valentine said Crossrail 2 was essential to preserve London's status as a world city. It was founded on good economic theory and would benefit from the series of successful recent projects such as HS1, King's Cross, the Olympics and Crossrail 1.
She offered some thoughts on funding from the business community, on the grounds that it could be considered "an easy touch" for some of the money required. Finding the sums involved would not be easy, she cautioned, but believed a way would be found.
She believed continuing the supplementary business rate beyond Crossrail would be something the business community would support – though not a "supplementary supplementary business rate".
Residents and passengers would benefit and should also make a contribution. A way of capturing the increase in land values generated by the project should be found, she said, but added: "Policymakers need to create the value before they capture it."
She concluded by calling on the next Mayor of London to make securing Crossrail 2 the top priority for their four year term.
Lessons from Crossrail
Crossrail chairman Terry Morgan said Crossrail would be delivered on time and within its funding envelope.
He added that the project was 75% done and all the core tunnelling was complete. He added that Crossrail was on course to open at the end of 2018 and that the project had been built with 30 to 40% spare capacity to anticipate future demand. The project would be bigger than anything seen in London before in scale, he said.
Mr Morgan set out some of the lessons from Crossrail, including governance, working with the sponsors to achieve autonomy and engaging with community stakeholders. He emphasised that the project had not been drawn into a trap of opting for the lowest bid.
There had been some ideas for innovation that Crossrail had been unable to put into place, Mr Morgan said.
He urged Crossrail 2 to carefully consider the optimum point at which compulsory purchases could be handed over to developers, in order to secure the best value.
Crossrail had had a skills strategy built into its contracts. 12,000 had enrolled at the Tunnelling and Underground Construction Academy. It had improved diversity, with 27% of last year's apprentice uptake being women.
Mr Morgan emphasised the importance of maintaining good engagement and relationships with community stakeholders. He pointed to the launch of Crossrail's Learning Legacy initiative last month as part of the project's commitment to guaranteeing continuing benefits from it.