The difference could not be more stark; in a matter of weeks the desire for accessible travel on-demand, shared-mobility options and for an ever-increasing number of journeys has transformed into a need for space, safety, and low-risk mobility. The thought of standing within breathing distance of a stranger on a crowded bus or train is now enough to bring most of us out into a nervous tick.
Danger and safety changing places
Travelling in a car or motorbike was until recently seen as the most 'dangerous' form of mainstream transportation (7,500 deaths or serious injuries in 2018 alone1), but the ability to isolate behind glass screens in one's comfortable little bubble makes driving the most attractive transport mode of these pandemic times.
Public transport is going through an image crisis. A recent survey of 2,000 respondents by Transport Focus recently found 57% reported they would drive more rather than use public transport2; and 32% say they won't use public transport for any reason until they feel 'safe'.
Shared forms of mobility may fall away for the short and medium-term, even for years to come. Data from our MaaS provider partners has shown car-sharing in Berlin is down 47% from the start of lockdown and ride-sharing in larger vehicles has effectively ceased. Many European cities had been developing into Mobility as a Service (MaaS) markets – where commuters saw public transport as a safe alternative, a flexible and dynamic range of modes across one platform. Many dumped their cars in favour of these alternatives, but the black swan of Covid-19 means MaaS will need to evolve too if this trend is to continue.
Bring out the wildcards
The rise in private mobility use through lockdown will continue as recovery begins. To avoid significant spikes in congestion, worsening air quality in our cities and missing governmental climate change targets for 2020 and beyond, we must develop a new paradigm to combat these behavioural shifts. The UK government's current message of 'drive and avoid public transport if possible' is affecting perception and behaviours. Many now believe cars to be safer in a time of pandemic disease control. But this advice and these behaviours pose a significant risk to many long-term goals for central and local authorities: reduced congestion, improved air quality and climate targets for example. 
As the threat from Covid-19 subsides, not automatically prioritising the car as the default travel option in the months and years to come, will require policy controls and information campaigns to shift behaviours. The challenges posed by Covid-19 are significant for governments and local authorities everywhere. However, they also pose a golden opportunity to change transport policies. Transport policymakers have reached a crossroads. Yet by moving ahead with wildcard solutions (those which are radical and highly innovative) - we can change travel norms, assumptions and behaviours on the ground significantly3; to support the achievements for the public good like cleaner air and more long-term pedestrian and cycle-friendly cities.

Shifting behaviours

Now is the time to turn the increased walking and cycling seen during the lockdown into a long-term behavioural shift for society. To do this, we will need to develop new rules for shared transport space swiftly and carefully, as is already happening across some UK cities. York, London and Manchester have already been creating new spaces for pedestrians and cyclists and drawing up plans for at least parts of these cities to go car-free when lockdown is lifted.
Alongside these promising infrastructure projects and attempts to pivot away from the private car, travellers will need additional support from governmental bodies and transport operators to navigate the new normal as we reopen from lockdown, and to feel safe while doing so.
New rules of the road
In addition to new spatial infrastructure such as wider cycle lanes and pedestrianised zones that enable higher numbers of travellers to keep their distance, we also need new 'rules of the road' for such spaces.
This will require updates to the Highway code and clear guidance for the use of micro-mobility vehicles such as e-scooters in non-motorised zones of cities. We will also need new Covid-safe overtaking and distance recommendations between bikes and other micro-mobility vehicles to protect personal space through this transitionary period. Mask wearing may also become an addendum to the accepted practice of helmet wearing for non-motorised travellers.

Covid-safe Public transport
Signage, markers and a recognised terminology for travellers to traverse the new Covid-alert city and Covid-safe travel landscape; similar to those across many essential service industries such as the NHS, pharmacies and supermarkets will also be needed.
Human Factors experts have been emphasising the need for a spatial definition to create signals in transport environments for years, and Dr Claire Williams, Technical Director at Atkins explains nudges could support users to do the right thing in such environments: "by making safe behaviours a default for travellers, we can frame their choices to make the safe thing the easy thing. We can change the physical environment and also provide critical, up-to-date information that travellers want and which will help them make decisions."
Emily Thorne, Head of Human Factors at Atkins, says of the importance of creating a new visual language: "In order for a visual message to be acted upon, feelings of safety and trust are fundamental, and these messages must be consistently delivered in a human-centred way to build these feelings." Joined-up thinking and consistency on Covid-messaging across public transport modes and operators is needed. This will ensure travellers don't become confused at a myriad of different messages, or fatigued with trying to interpret different rules, hence give up and act on instinct or self-interest instead.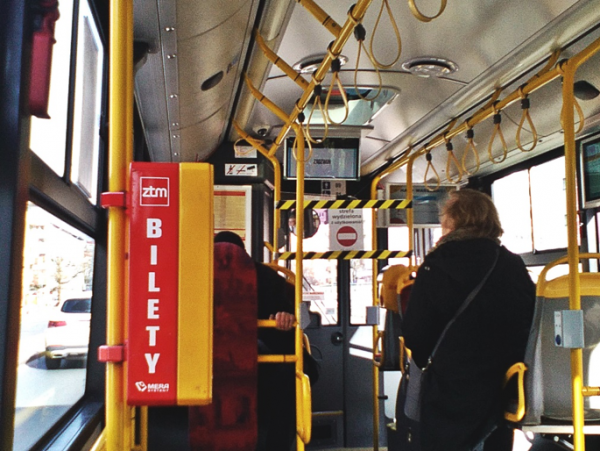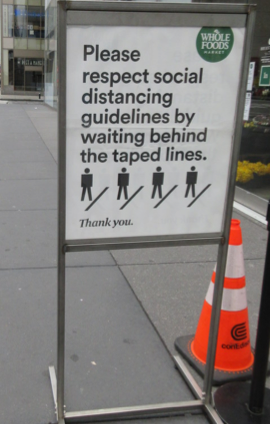 Social distancing requires a new visual language of cues and signals, some examples from around the world.
Reducing mobility by choice
The more existential risk for the travel industry and policymakers, is the potential impact on mobility, particularly across public transport modes, for the foreseeable future.
This trend could likely come from a demand-side shift. Staggered start times, long an ideal of transport planners, but resisted by the historic norms of 9-5 working hours, social conservatism and the inertia of organisational change, may finally become a necessary reality; finally marking the end of a daily rush hour and its epoch of physical presenteeism. Office work has shifted to virtual work practically overnight for thousands of organisations. This has highlighted that schedules no longer need to be bound by the restrictions of the daily commute, by the opening and closing times of physical buildings. Workers have quickly adapted to a flexible workday where childcare and other responsibilities share the same spatial priorities as work. This sudden reorganisation of society has seen family and professional life merge into the same space and times, and the likely continuation of this trend for the weeks and months ahead means that organisations must embrace flexibilization as their new normal. There has also been an acceleration in other trends, such as automation to reduce risk in supply chains (robots aren't as vulnerable to deadly viruses as humans are (of the biological kind at least), and they don't need to commute).
Sections of the population shielding from Covid-19 or feeling more at risk will also be unlikely to return to pre-Covid levels of journeying in the coming weeks and months. They will choose not to travel unless they must and recent research across several studies is also pointing to this conclusion4; emphasising concerns about catching the virus and creating a long-term shift in behaviours.
The supply side of mobility may also come under increasing pressure as lockdown lifts. There is a lack of capacity to move people safely while abiding by social distancing guidelines; and difficulties in policing movements in environments like trains and stations, resulting in an inability to move as many people over a particular route. There may even be extra incentives for travellers or businesses to hand back season tickets and reduce non-essential journeys into the long term.
Back to baseline
To return to pre-Covid levels of mobility, ensuring an inclusive recovery and avoiding the negative externalities of spiking private car use, the following will be paramount:
• Proving and communicating the safety case for travel across modes
• Safe infrastructure
• Effective information messaging
• Distance control measures
• Policy change
• A new Covid-safe visual language
It will require all of these if we are to take full advantage of the challenges to our ability to move freely that the coronavirus has brought in its wake. If governments are serious about a green recovery and getting people back on the move safely, then their reactions to the black swan event of the Covid-19 pandemic need to be wildcard policy and information response as powerful and catalysing as the virus itself.
---
1 UK government road casualties Annual Report
2 Transport Focus, Travel during Covid-19 survey
3 Hsieh, 2018; Frida et al., 2019; Arroyo et al., 2018
4 SYSTRA, 2020, Public Transport Users say they could make fewer trips after the Pandemic
---
Felicity is a Senior Consultant and Ethnographer at Atkins (part of the SNC Lavalin Group), leading customer
value propositions across intelligent mobility themes.
Atkins provides industry leading consultancy and research to support public and private sector clients
prepare for the Covid-19 recovery and roadmap back to a post-Covid business as usual.
Please get in touch for more information: f[email protected]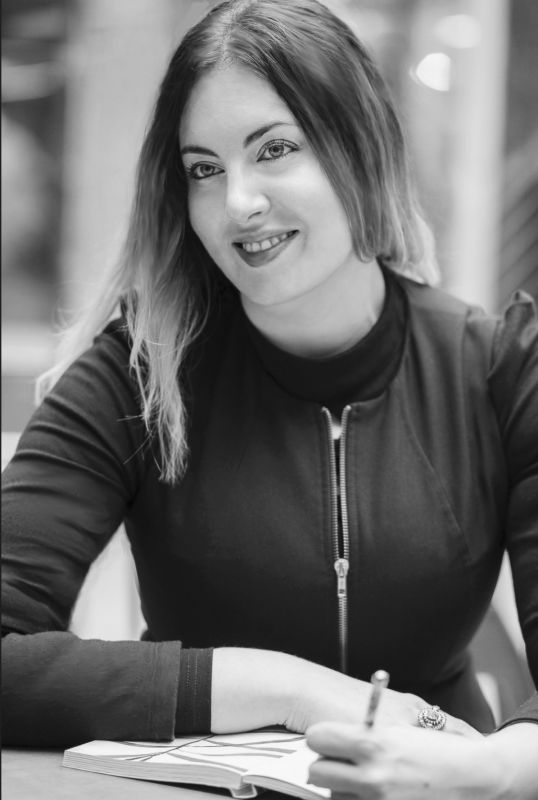 ---